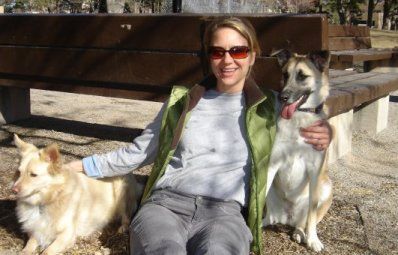 There isn't a dog around that does not fall in love with Darlene at first sight and vice versa!  Darlene pets and coos over any animal as if they were her own.  She is compassionate, affectionate and intuitive about their personalities.  I am absolutely paranoid about leaving my dogs with anyone... not even the best-rated boarding facility.  But, I could leave on a long vacation out of the country without worries, if Darlene was taking care of my "babies!"  Not only is Darlene kind and skilled with dogs, she has many years of professional experience and knowledge in the animal sheltering arena to add to her credentials.  I have known Darlene for years and highly recommend her as second only to YOU as the best person to care for your animals! 
Cathy B.
Albuquerque, NM



Darlene is very compassionate about animals.  Darlene treats her own animals as her children.  She has this nature about her, and truly 'babies' all animals she is in contact with.  Darlene has spent a high volume of hours of her time over the past several years volunteering at shelters and animal advocacy events.  Darlene is always first to offer her time on animals' behalf.  Justly, I cannot think of anyone else that I would suggest off hand to provide care for anyone's animals other than Darlene.  She is dependable, honest, caring and best of all, 'loves what she does when taking care of animals'.  She has experience, and the given ability to communicate with animals.  I have complete faith in her skills and knowledge in this field.  There are numerous businesses around offering animal care, but, Darlene is her own person doing this for her love of animals, not just as a money making tool.  I highly recommend Darlene to care for your animals.  She is the best resource in this area!
Hillary S.
West Hartford, CT



I shared an office with Darlene Williams when we both worked for The Animal Humane Association of New Mexico. Darlene was the Volunteer Coordinator and I worked in Special Events. If I needed to see Dar and couldn't find her in the building, I knew she would be down in the kennels, walking dogs or visiting the cats. Or she would be in the adoptions dept., helping with intakes or directing prospective adopters to the kennels and pointing out which animal might be a good fit for them. Her number one priority was finding homes for our animals.

In addition to being office mates, we were friends, and not just because of our close proximity. We loved to get outside and enjoyed hanging with our extended animal family. When I left town on travel, Darlene and her two pups would come over and keep an eye on my animals, two dogs and a cat, and I knew that they would get the same attention from her that they would from me. I never had a second thought about leaving them with Darlene.
Her love for all animals makes her a great choice when deciding on someone to care for your animals.

Creed S.
Albuquerque, NM